As a chef, I have spent nearly half of my entire life in a professional kitchen, and once a month someone will ask, "What goes good with scallops if I decide to make them my main course?" There is a reason so many people ask this question. Red Lobster has corrupted the way you, as home cooks, think of scallops.
They send out tiny black platters of them on top of huge platters adorned with other meat commonly used as main courses. I do not believe scallops are meant to be a side dish. In fact I know they are not a side dish. What should you serve as sides with scallops as your main course? It is simple, and there are so many options.
I am going to teach you to make them your main course by serving them with the appropriate side dishes, which will answer many people's questions about what to serve with scallops.
What Goes Well With Scallops
This Is Why You Must Plan a Meal Around ScallopsAdding the Right Vegetable to Your Scallop EntréeThe Best Vegetables and Their Preparations for ScallopsList Scallops That You Can Choose1. Sea Best 20/30 Jumbo Scallops, 16 Ounce2. Sur La Table Pro Ceramic Shrimp and Scallop Pan CC76883. Sea Best 8/12 Colossal Scallops, 16 Ounce4. Large Japanese Dried Scallops Dry Seafood5. [E-Book]-Scallops: A New England Coastal Cookbook6. [E-Book]-Scallops (Simply) Kindle EditionThe Best Starch to Serve With ScallopsThe Right Potato Side for ScallopsThe Only Side of Pasta Worth MentioningDoes Rice Have a Place With Scallops?The Final Decision on What Goes Good With Scallops
This Is Why You Must Plan a Meal Around Scallops
Scallops are what is referred to as a protein. You have to remember what this means from now on when preparing your meals for yourself, family or guests. The protein of the of the main course is the center piece of your meal. Even if your main course is a pasta such as Tutto Mare or Ciopinno which both include scallops, the seafood in those dishes are the main flavor enhancers and the main ingredients. Everything you prepare your scallop meal should compliment it. A complete scallops main course will include an appropriate vegetable, starch and a sauce for the scallops.
Adding the Right Vegetable to Your Scallop Entrée
Discussing what vegetable side goes good with scallops is going to get the hard part out of the way first. There are a myriad of vegetables for each season and a variety of ways to cook them. You will be able to find a comprehensive list in the sources. I find only a few worthy of scallops, and it is critical to match the cooking method for the vegetables with the buttery flavor of scallops. Let's get started.
The Best Vegetables and Their Preparations for Scallops
In my opinion, here are the best vegetable dishes for winter linked to a quick, easy and tasty recipe:
Roasted garlic and lemon broccoliSautéed swiss chard with Garlic and lemonOven-roasted cauliflower with garlic and lemon
Next, these are my choices for spring vegetables:
Sauteed asparagus with olives and basilLemon Parmesan asparagusSauteed sugar snap peas
Here are three great choices for summer vegetable sides to accompany scallops:
Green beans with lemon and garlicGreen beans and tomato sautéGreen beans tossed with basil, balsamic and Parmesan
Finally, here are my favorite vegetable sides for scallops during fall:
Roasted brussel sproutsSauteed carrotsSauteed kale and apples
List Scallops That You Can Choose
1. Sea Best 20/30 Jumbo Scallops, 16 Ounce
Scallops are some of the best-tasting and healthiest seafood around. Sea Best Jumbo Scallops are tender, juicy, sweet, and mild. They have a wonderful, medium texture and are ready to cook right out of the bag. Sea Best scallops are farm-raised and come in a resealable bag. They are naturally low in bad fats and high in omega-3 fat (the good fat). They are very high in protein and also have other beneficial vitamins and minerals. They are individually quick frozen so it is easy to take out a few for a single meal without needing to unthaw the entire bag.
Buy Now on Amazon
2. Sur La Table Pro Ceramic Shrimp and Scallop Pan CC7688
Shrimp and scallops are only as good as the cook, so when grilling them, using the right pan can make sure they are grilled to perfection. The Sur La Table Pro Ceramic Shrimp and Scallop pan is perfect for grilling. It is a high-heat pan that can withstand temperatures of up to 700 degrees. The 12 shallow wells cooks shrimp and scallops individually and uniformly. It is non-stick, light-weight, and stain resistant. The pan measures 13.5″ x 9″ x .75″ (34.3cm x 22.9cm x 1.9cm) so it is small enough to be put on the grill while still leaving space for other foods.
Buy Now on Amazon
3. Sea Best 8/12 Colossal Scallops, 16 Ounce
If you are looking for some big, juicy, tender scallops then Sea Best Colossal Scallops may be a great choice for you. These scallops are fresh, individually frozen, and the satisfaction is guaranteed. Scallops are great when cooked in a number of different ways including baking, grilling, or pan-searing, and the mild and subtle sweet flavor with have your mouth watering. Sea Best scallops have a nice texture and flavor. The scallops are farm-raised in the United States, high in Omega-3 fatty acids, low in bad fats, and a great source of protein. Sea Best scallops are tasty as well as healthy.
Buy Now on Amazon
4. Large Japanese Dried Scallops Dry Seafood
Dried scallops are a popular Asian cuisine. Dried scallops make a great snack or can be used as an appetizer or a main entree in a full meal. They could also be used to make a delicious and filling soup. Dried scallops have many of the same health qualities as frozen scallops such as being high in omega-3 fat and low in calories. These scallops are jumbo scallops and are originally from Japan Hokkaido. The texture is impressive and the flavor is delightful. With guaranteed quality and freshness, these are some of the best dried scallops you may ever have.
Buy Now on Amazon
5. [E-Book]-Scallops: A New England Coastal Cookbook
Scallops: A New England Coastal Cookbook is more than just a compilation of great scallop recipes from the New England area of the United States. Authors Elaine and Karin A. Tammi, a mother and daughter team of scallop lovers and experts, presents a complete scallop "guide", with interviews of industry professionals and full-color, high-quality photographs. It also contains a lot of other information about scallops from the history of the popular ocean dwellers to common questions and concerns. This book is a must-have for any scallop and/or seafood lover.
Buy Now on Amazon
6. [E-Book]-Scallops (Simply) Kindle Edition
No matter how you like your scallops, you will find a recipe in this book that will suit your tastes and discover others that will peak your interest. In Simply Scallops you will find 20 delightful scallop recipes that are simple and easy to make. This 50 page book is complete with beautiful and tempting color photographs and easy-to-follow instructions. In no time, you will have some of the best scallop dishes for any event from simple snack time to a a dinner party. Available on Kindle with text-to-speech enabled, you can brush up on scallop recipes anytime, anywhere!
Buy Now on Amazon
The Best Starch to Serve With Scallops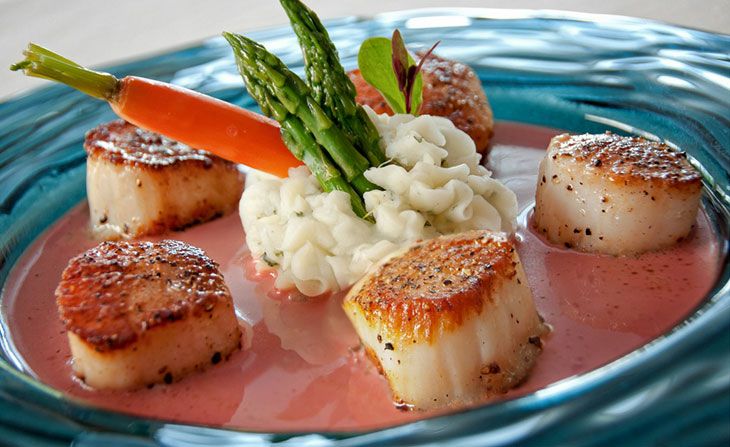 This is not going to be as complicated as picking vegetables. You just want to stick with selecting a starch to pair with the buttery flavored scallops. Starch encompasses a lot of things, but the options are limited. I have chosen the best starches for each in my experience.
The Right Potato Side for Scallops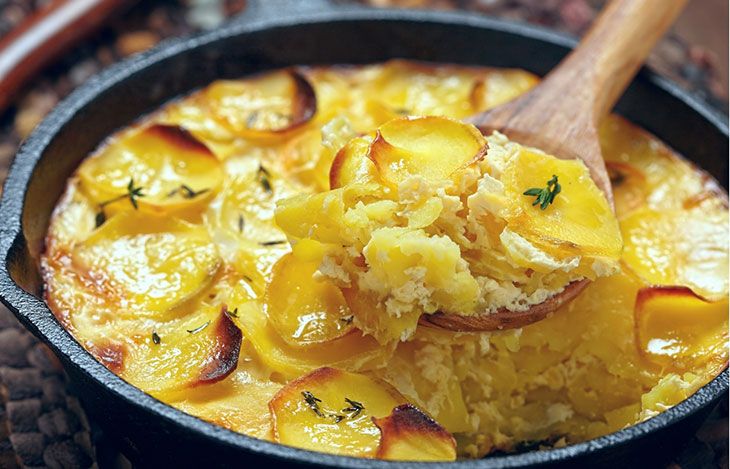 There are only a couple I like. They should not be overly seasoned, and I recommend serving size be a bit smaller. Here is what you should go with:
Roasted red potatoesHerbed potato gratin with roasted garlic and manchegoMiniature baked potatoesThe Only Side of Pasta Worth Mentioning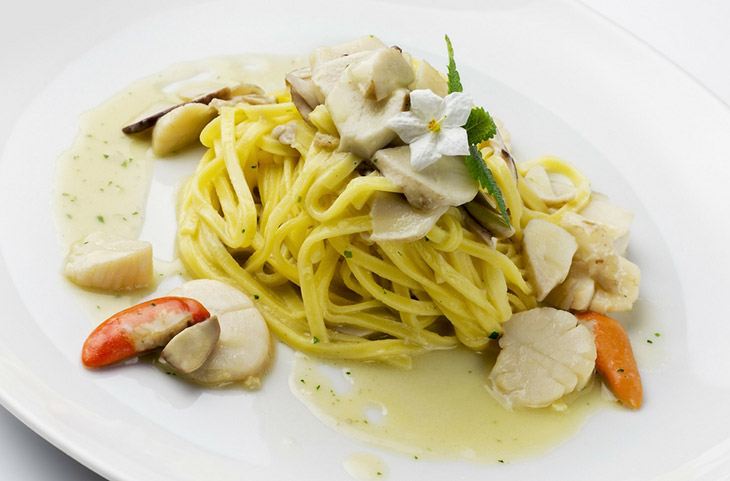 Orzo pasta looks like rice to the untrained eye. As far as scallops go, many cooks prepare it as a meal with the scallops placed on a bed of orzo. I prefer a side of orzo featuring a light flavor with my scallops. The perfect side is a lemon and parsley orzo.
Does Rice Have a Place With Scallops?
You could hunt up some rice recipes for a side if you wanted to. I believe there is only one thing worth putting your time into, and my selection is a scallop risotto recipe.
The Final Decision on What Goes Good With Scallops
Deciding which sides go best with scallops depends on you and if you are serving other people. Your taste buds will go a long way in the decision-making process too. In my opinion and experience, the vegetable sides, potato sides and pasta listed above are winners. You can consult different recipe sites to see what is recommended too, but I think going by the season when selecting a vegetable is always classy and shows off skill. Checking forums like this one for ideas is a great way to get inspiration. I also recommend learning more about side dishes with the following books:
Scallop Greats: Delicious Scallop Recipes, The Top 100 Scallop Recipes
The Big Book of Sides: More than 450 Recipes for the Best Vegetables, Grains, Salads, Bread, Sauces, and More
Source:
http://www.chowhound.com/post/side-dish-scallops-366591
​http://www.foodrepublic.com/2014/01/07/25-winter-vegetable-recipes-to-make-for-dinner-tonight/
http://www.thekitchn.com/12-fall-vegetables-you-should-know-how-to-cook-211234
http://cooking.nytimes.com/topics/summer-produce​